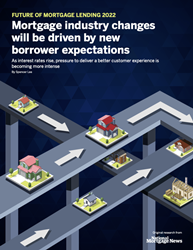 Arizent's new research report, Future of Mortgage Lending 2022, analyzes how customer expectations differ during the lending process
Educating new buyers about processing times when applying for a mortgage would go a long way to improving satisfaction and managing expectations. Trying to connect with these potential customers, especially younger ones, through marketing efforts could yield business benefits.

NEW YORK (WEB PR)
August 09, 2022
A new survey by Arizent, the parent company of National Mortgage News, a comprehensive digital news resource serving the entire residential mortgage industry, reveals near universal satisfaction with the mortgage process across all age groups, but there are still widespread differences in customer experiences. for these generational demographics.
The survey group consisted of 503 respondents who took out a new purchase mortgage and 511 participants who refinanced an existing loan in the previous 12 months. Respondents were evenly split between Baby Boomers, Gen X and Millennials. Due to the smaller number of participants typically seeking mortgages, 39 Gen Z borrowers were surveyed.
Participants expressed a high rate of satisfaction with the mortgage process, with 94% describing themselves as "very satisfied" or "somewhat satisfied". Among the former, 62% of respondents belong to Generation Z, 56% to Generation Y, 59% to Generation X and 70% to Baby Boomers.
Half of survey participants said they were "very satisfied" with loan transparency, pre-approval speeds, closing times and digital capabilities. Overall, 49% of borrowers said faster closing times would have created a better experience than other factors such as paperless transactions with 29% and technology efficiency with 21%.
"The digital shift in consumer behavior is evident. Research shows that 65% of borrowers applied for their mortgage online," says Janet King, vice president of Arizent Research. "57% of Baby Boomers have used their computer or tablets, while 51% of Gen X, 50% of Millennials and 31% of Gen Z have taken the same path."
"Despite the privacy and cybersecurity risks," King adds, "seven in ten people across all age groups said they would give their income and asset data to mortgage providers for reasons of speed and convenience".
The research also showed that 511 participants who refinanced an existing loan in the previous 12 months said they had used their original mortgage lender, while 13% chose their primary financial institution. Another 22% came through referrals from friends, family members or brokers.
The research further examines current customer expectations of the mortgage process, where gaps in the process open up opportunities for fintechs and non-traditional finance firms, and how educating new buyers can improve satisfaction and loyalty.
The full report can be downloaded at: https://www.nationalmortgagenews.com/research-report/mortgage-industry-changes-will-be-drive-by-new-borrower-expectations
To learn more about closing times and mortgage borrower expectations, click here.
Research Context/Methodology

The data was collected online in May 2022 from 1,014 US consumers ages 18 and older, all of whom had either obtained a new mortgage to purchase or refinanced an existing mortgage in the previous 12 months.
For more information about this survey or other Arizent research, contact:

Janet King

Vice President, Research

Arizent

[email protected]

M 207-807-4806
About Arizent Research

Arizent Research delivers actionable insights through full-service research solutions that leverage their first-party data, subject matter expertise, and highly engaged communities across banking, payments, mortgages, insurance, municipal finance, accounting, human resources/benefits and wealth management. . They conduct research to support original ideas and analysis for their various editorial and content brands, as well as custom research programs for clients in the industries they serve.
About Arizent

Arizent is a business information company that advances professional communities by providing information and analysis and bringing together industry leaders. The company uses deep industry expertise and a data-driven platform to deliver its services, which include subscriptions, marketing services, live events and access to Leaders, an executive forum. Arizent also connects business communities through leading financial services brands like American Banker, The Bond Buyer, Financial Planning and National Mortgage News, as well as professional services brands like Accounting Today, Employee Benefit News and Digital Insurance.

Share the article on social networks or by e-mail: