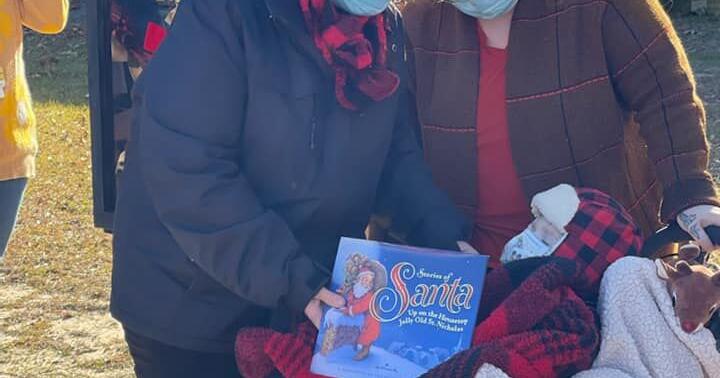 Bogue Sounds Elementary School dedicates lending library to terminally ill Newport boy | New
OCEAN – A new loaner library at Bogue Sound Elementary School near Highway 24 is named after Chance Wiles, a 6-year-old Newport boy who has lived his entire life with a fatal disease.
The school dedicated the library, Chance's Lending Library, to Chance in a ceremony Tuesday morning.
Chance's mother Angela Wiles said her son, diagnosed with Walker-Warburg syndrome, received the first book, which was about Christmas because he loves the holidays.
The syndrome affects Chance's brain, eyes, and muscles. He has had several brain surgeries, suffers from seizures and has lost part of his sight.
Ryerson Unlimited, a carpentry company in Bogue, made and donated the box to house the library. Students and other community members can pick up books to read and add them, like other Little Free Library locations.
The project has been in the works for months since the Chance Virtual Kindergarten at school last year.
Ms Wiles said she had spoken to her kindergarten teacher, Morgan Shaffer, who thought it was a good idea.
"I didn't know until the dedication that they named it after Chance," Ms. Wiles said. "I cried the whole ceremony."
Many BSES students came for the dedication from the lending library, which is right at the entrance of the school.
"It's not just elementary school books," Ms. Wiles added. "There is a great variety. It's great for people who may not have access to a public library. I really only had a rough idea and everyone took inspiration from it and made it work, "she said.
Carteret County Schools Superintendent Dr. Rob Jackson attended the dedication, as did some members of the county school board and many parents involved in the BSES parent-teacher organization.
Ms Wiles said she was very grateful to the school system, the PTO, the school staff, including Principal Jenny Bell, and Tom Ryerson and his staff, who built the box. Ryerson Unlimited has also built a number of exhibits in the school, including a glider, Ms. Wiles said.
The mother painted the library box, including phrases on the signs that incorporate the words "luck" and "read," such as "Chances are today is a good day to read." Other themes include Dr. Seuss.
"It was such a great day," Ms. Wiles said, "and it was Giving Tuesday, which was perfect."
Chance likes books.
"It's her # 1 favorite thing to do," she said. "He can't do a ton of things, so I read to him all the time. He likes that.
"He has an iPad and I find famous actors reading books to him. We have so many books that I don't know where to put them all. We have all kinds of books, sensory things he can touch, regular books, "she continued.
Reading also helps keep calm, she added.
Ms Bell said on Thursday that Ms Wiles is a "wonderful mother" and involved in the school. She appreciates Ms. Wiles' efforts to get the library up and running, even though Chance isn't going to school now and is being taught at home.
"Some of the students have already passed and picked up books," she said. "There is something very special and mysterious about this. Some of the students had seen Chance virtually, and they were very happy to see him in person. We just want to thank everyone for doing this.
In a post on the school's Facebook page, the school said, "Thank you, Ryerson Unlimited and Ms. Angela for your dedication to our community.
Contact Brad Rich at 252-864-1532; send an email to [email protected]; or follow us on Twitter @brichccnt.