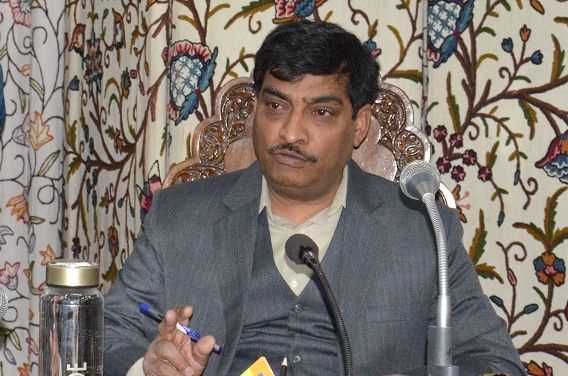 CS urges banks to increase lending for increased economic activity
Saying that the credit crunch is a big drag on a growing economy like J&K, Chief Secretary Dr Arun Kumar Mehta today called on banks to increase lending to allow J&K to maintain momentum ongoing growth.
He said rising tourist arrivals and falling unemployment would start to show results if banks ease the credit crunch to revive the J&K economy.
Dr Mehta was speaking at the 6th meeting of J&K UTLBC which was attended by Commissioner of Finance, Atal Dulloo, Principal Secretary, HUDD, Dheeraj Gupta, Principal Secretary, Department of Agricultural Production, Navin Kumar Choudhary, Principal Secretary, I&C, Ranjan Prakash Thakur, MD and CEO, J&K Bank (Organizer J&K UTLBC) Baldev Parkash, Director, DFS, MoF (GoI) AK Dogra, Regional Director, RBI, Kamal P Patnaik, Chief Managing Director NABARD, AK Sood and d other senior government officials, RBI, NABARD, banks, LDM, line departments, insurance companies and the representative of BSNL.
The chief secretary said banks must urgently move to accepting and processing loan applications online for greater efficiency and transparency.
While appreciating J&K Bank for launching a portal for real-time monitoring of credit applications under government sponsored programs, he informed that a common portal for receiving and processing applications in the framework for all government-sponsored programs will soon be developed and integrated with all banks operating in the J&K. .
He said, "This will solve all worries about delays in processing loan applications by different banks."
The Chief Secretary has directed the Head of UTLBC to ensure that J&K is saturated with bank branches/correspondent banks in accordance with DFS standards by April 15, 2022.
Dr Mehta requested the Agriculture Secretary, Industries and Commerce Secretary, UTLBC Organizer and RBI Regional Director to prepare an actionable export/financial roadmap for the program "one district – one product" by April 15, 2022.
Stating that lending to the priority sector is an important social obligation of banks, the Chief Secretary directed banks not to insist on collateral where they are not required by standards and operate within RBI standards/schemes GOI during the processing of loan applications.
Former Executive Chairman, Sunil Gupta, during a presentation on the financial achievements of various banks in different sectors during the third quarter of the current financial year, informed that the agriculture and MSME sectors have done well performed in lending to priority sectors.
He was informed that out of 14,932 files sanctioned under the PMEGP during the past year, 24,135 files had already been sanctioned at the end of February 2022 during the current financial year.
Similarly, compared to 10,155 cases sanctioned under the NRLM in the last year, 14,448 cases were sanctioned at the end of February 2022 in the current financial year.
Sunil informed that 1443 cases under the MUMKIN program have been sanctioned and disbursed as of March 16, 2022.
Out of 29,146 cases sanctioned under various job creation programs in the last year, 46,569 cases have already been sanctioned by the end of February 2022 in the current fiscal year.
He was further informed that 28,763 KCC (harvest) and 25,593 KCC (AH) have been issued through January 2022 in the current fiscal year and near saturation has been reached with respect to the KCC.
As part of the goal to organize 651 financial education camps, 1040 financial education camps have been organized until December 2021 in the current fiscal year.
Sunil further stated that the overall CD ratio in J&K decreased from 50.67% on 31.03.2019 to 56.57% on 31.12.2021.
NRLM (1.60%) and PMEGP (1.90%) are said to have the lowest non-performing assets under major public sector schemes.
Stating that social security is at the heart of the government's social effort, the Secretary General ordered the saturation of PMSBY, PMJJBY, PMJDY and APY before April 15, 2022.
He ordered banks to increase lending to SC/ST/OBCs and artisans to help sustainably improve their socio-economic conditions.
Dr. Mehta informed that the performance of J&K under PM svanidhi is among the best in the country and requested the banks to expedite the disbursement of the 2nd installment under PM svanidhi to eligible beneficiaries.
Dr. Mehta ordered banks to launch financial education campaigns at J&K, especially in remote areas, including educational institutions.
Considering financial literacy as an important step towards financial inclusion, he has emphasized raising awareness among the population through media campaigns, erecting palisades, etc. in prominent places about the benefits of various financial inclusion, social security and government-sponsored schemes so that more and more beneficiaries can take advantage of these schemes.